| | |
| --- | --- |
| Data Solutions | |
| | |
In Office Networks maintains a facility specifically designed for businesses that require out-of-house services to manage their existing IT infrastructure.
In Office Networks provides services for businesses that typically encompass the following


Remote Data Backup - Disaster Recovery and Data Warehousing


Managed Exchange Servers


Remote SQL Servers


Database Storage


Monitoring Systems


Dedicated Mail Servers


VPN Hubs and way points


Voice Over IP gateways


General Colocation


etc.
In Office Networks facility provides a secure location for your mission critical sensitive data. Our facility boasts the following:

Secure Location - 24/7 Monitoring


Dedicated Cooling Systems


Redundant Battery Backups / Generator Backups


High-Speed OC-12 Redudant Fiber Connectivity


Multi-homed Internet Connectivity

Call today to ask one of our representatives if we can provide a dedicated solution for you in our premier facility!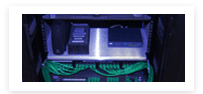 As businesses grow, they find that maintaining multiple offices becomes an integral part of their business. In Office Networks specializes in integrations such as these, using a variety of technologies such as VPN, DS3/T1, LAN/WAN, Fiber Optics, etc


In Office Networks has on hand a variety of staff proficient/certified in several industry fields including:

MCSE/MCP


CCNA/CCNP


A+/Network+


RedHat


Dell Certified


many others..



51 Tec Street
Hicksville, New York 11801
(516) 933-9669 (Office)
(516) 933-8484 (fax)

Click here for more